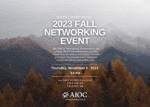 2023 Fall Networking Event
Thursday, November 9, 2023
McMurray Room, Calgary Petroleum Club, Calgary AB
AIOC Networking Event – Fall 2023
Thursday, November 9, 2023, 3:00 - 6:00 pm
Calgary Petroleum Club – McMurray Room
319 5 Ave. SW, Calgary AB
Register on or before November 3, 2023
AIOC invites you to our fall networking event. We've decided to pivot the format of our Igniting Prosperity Forum. We have moved away from a forum and conference style event to focus more on networking opportunities.
This event is our new format to our forum. Join AIOC for some exciting announcements and updates. We will have entertainment, light refreshments and snacks.
Thank you for your continued support and we look forward to connecting soon!
Read